Service information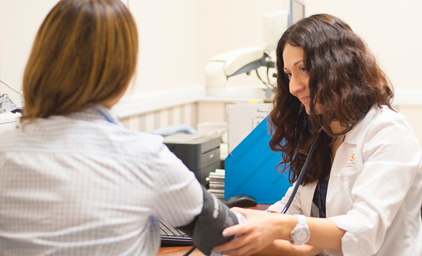 Cost of service
from 5 643 ₽
If necessary, additional examinations will be appointed
Read more about the doctor
About the service
Many people have had a new coronavirus infection. For some people, the disease was relatively easy; for others, it was more severe and even required the hospitalization.
Some patients have already recovered, but still have complaints: some of them have heart palpitations, others have chest discomfort, shortness of breath, decreased physical activity, and some have disorders of the emotional spectrum.
We accompany patients who have undergone COVID-19, we help them to understand their complaints and symptoms, and, if it is necessary, determine an individual plan of examination and consultation. This is not a universal post-exam check-up, which includes all possible examinations (necessary and not necessary). It is only a personal approach with the right specialists and only the right examinations.
Our goal is to detect the effects of coronavirus infection and the effects of its treatment (e. g., diarrheal syndrome). We work with respiratory, circulatory, gastrointestinal, anxiety and depressive disorders.
We offer to make an appointment for an initial consultation with a general practitioner to solve the problem. The specialist will determine the need and scope for further diagnosis and treatment of postvoid syndrome, involving the necessary specialists if it is necessary.
Cost of services
| Name | Price |
| --- | --- |
| First Cardiologist Consultation | 11 095 ₽ |
| First Gastroenterologist Consultation | 11 095 ₽ |
| Psychotherapist Consultation | 11 095 ₽ |
| MD First Consultation | 5 643 ₽ |